For such a minuscule country, San Marino provides a fascinating collection of unique facts, outstanding views and an impressive history.  Given its size though, many people opt to take just a day trip to San Marino from one of it's neighbouring Italian cities and not spend a night or more getting to know it.
As the fifth smallest country in the world, and surrounded by Italy, it's easy to see how San Marino could merely be a novelty country tick while travelling around the Emilia Romagna region of Italy. But I for one think that this micro-state deserves at least one night of your vacation.
Overnight or day trip to San Marino?
San Marino is more extensive than most people would assume, given the old town of the nation, with its three towers perched on the hill, gets most of the attention. But further down from the towering position on Monte Titano there are actually other towns and spots to visit, though none really have the charm or draw of the historical section.
The real reason I think you shouldn't take a day trip to San Marino but stay overnight is because of how magical it becomes once the sun starts to set.
With a stunning vantage point over-looking Italy, the ocean, and on a clear day as far as Croatia, the sunsets here are mesmerising, especially as a backdrop to one of the three towers that flank the mountain.
But more than just the sunsets make an overnight stay in San Marino attractive; I found once the day-trippers left a sense of serene charm set across the historic old town. With sandstone streets quickly became devoid of crowds and the real magic of this micro-state was revealed.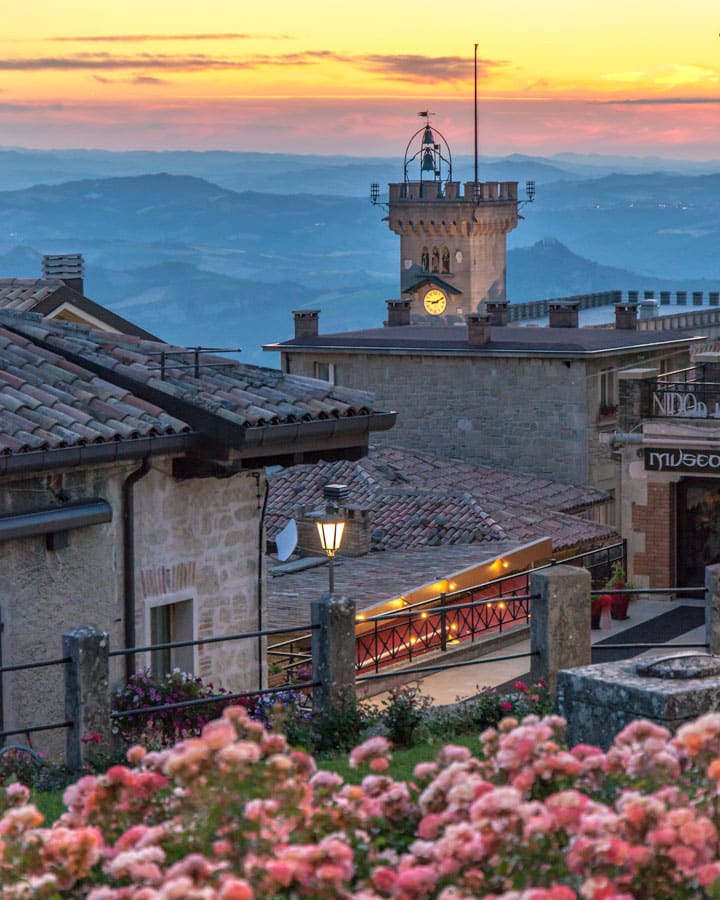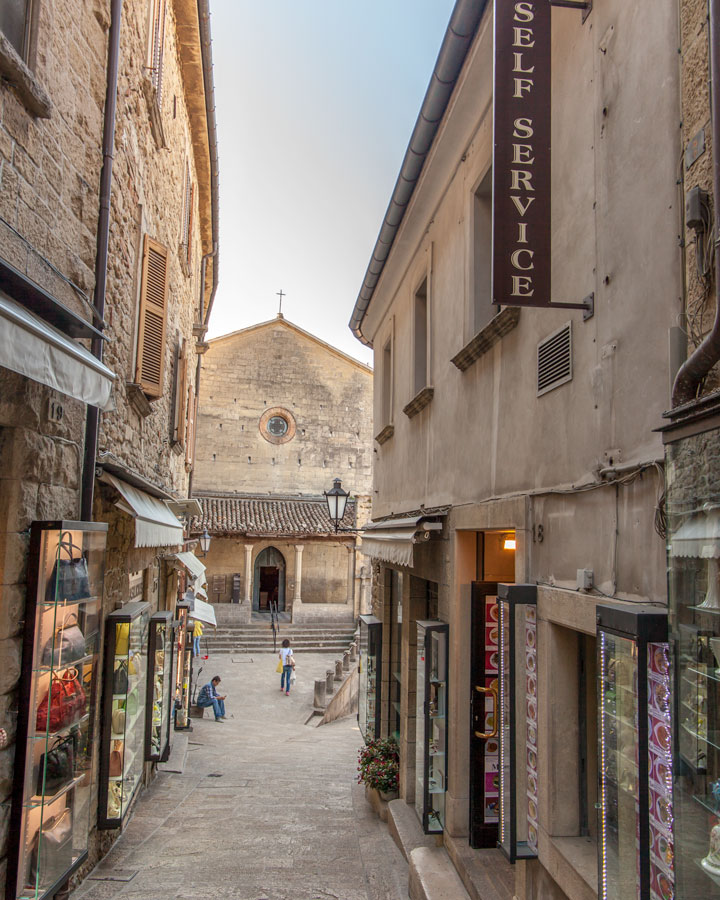 With only around 1000 beds for tourists to stay over-night here, and no cars and few residents, by evening San Marino feels like you have wholly stepped back in time.
Delicious dinners with breathtaking views, ample architectural and design wonders, and a peaceful feeling of being on top of the world transport you far away from the group-tours and naff novelty shops that seem to rule supreme in the day.
I stayed at the Hotel Titano which was rather grand and had a fantastic view from its restaurant. My room was on the lower floor, and the quality of the room and views weren't as good as my friends Janet who had a refurbished room higher up, so if you do book in here request to have a higher, newer room.
How to get to San Marino?
Whether you are planning to visit San Marino on a day trip, or to stay overnight, your routes will likely be the same.
If you are self-driving then this will likely be the easiest way, and although cars are not allowed in the historic centre itself there are some car-parks both nearby, and others further afield with buses to get you to the old town.
It's best to discuss parking options with your accommodation and heed their suggestions, especially if coming in the peak tourist months as parking isn't exactly unlimited.
As such, I'd suggest making the most of the great public transport links to get you too and from San Marino and although the buses will take you right to the top, hop out a stop earlier to take the cable car for an extra vantage point of rising to the top of Monte Titano.
The coastal city of Rimini in Emilia Romagna is your best connection to San Marino given its ample parking, train and air connections. From here you can take a bus to San Marino in under an hour and for around 10 Euro.
The buses leave from outside Rimini train station, so you can quickly arrive here from other cities in Italy. A direct bus service from Bologna airport also connects to Rimini Station, and from here you can transfer onto the San Marino bus.
Two companies operate the San Marino bus route, and the timetable varies between summer and winter. The option of taking a coach day trip might appeal more to those who want to visit from other parts of Italy and avoid the connections in Rimini, though if you plan to have an overnight stay in San Marino then taking the bus I believe is your best option… but why visit San Marino anyway?